musique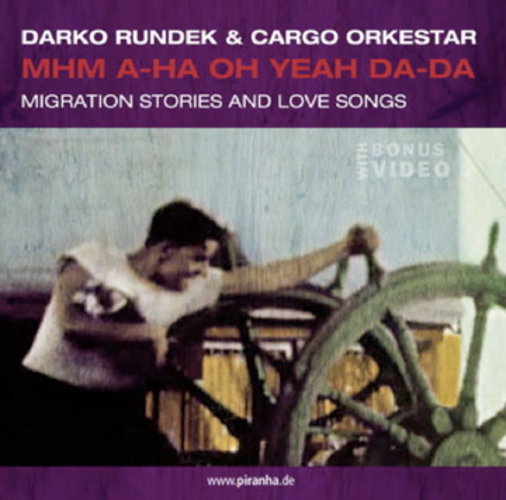 MHM A-HA OH YEAH DA-DA
2006 - studio album - 75'
Piranha Musik, Berlin
Darko Rundek - guitar, percussion, lead vocals; Isabel - electric violin, effects; Đani Pervan - drums, guitar, percussion, vocals; Bruno Arnal - double bass, bass; Dušan Vranić - piano, accordian, zither, vocals; Igor Pavlica - trumpet, scat; Manu Ferraz - trombone; Vedran Peternel - sound effects, processing, small percussion; Producers - Peternel, Pervan, Rundek.
On this original Piranha recording, Cargo songs tell of the loneliness of the exile and the placelessness of the Internet, the reality of modern metropolis and the utopia of a love that transcends all borders.
reviews
Howard Male
Artist - Darko Rundek & Cargo Orkestar Title - Mhm A-Ha Oh Yeah Da-Da Stars - ****

The Beatles, Bowie, Beefheart, Balkan brass bands - and that's just the B's in the list of eclectic influences I can hear in the latest from this Croatian maverick. Yet he still comes out of this ragbag of lurching, stumbling, and drifting melodramas, sounding very much his own man.
I doubt Bowie gets mentioned much in these pages, but like Darko he inhabits characters for three or four minutes, gives them a sonic setting, and then moves on. I think if our David had stumbled across some itinerant jazz band during his Berlin years - and absinthe had been his drug of choice rather than cocaine - he might have ended up making an album somethng like this. From wharped woozy sea shantys like 'Kolo' and 'Highlander' to the tongue-in-cheek lounge (in the old sense of the word) piano ballad with lilting reggae backbone of 'Helga', Darko simply talks, whispers, or croons his songs in-character: the romantic lead; the villain; or in one instance, the stoned computer loner looking for friends in Internet chat-rooms.
With Isabel's distorted, sustained violin weaving between wandering piano doodlings and evocative muted trumpet, there is more of an atmosphere of improvisation than on 2004's 'Ruke'. But it's still all within the confines of the song - serving the song - creating an appealing off-kilter jazzy vibe. So yes, Darko has done it again - buy your ticket and jump aboard. To paraphrase a line from the chorus of the title track: surrender to the pretender.

The Guardian, John L Walters, Friday June 2, 2006

With a title like this, you might imagine some energetic bonkers Balkanism, good for winding up the controller of Radio 2, but little more. However former Croatian new wave star Rundek, now a voluntary exile in Paris, crafts sneaky, snakey songs in several languages, backed by a multi-talented group that holds it together magnificently on record as they did at their recent London shows.
There are elements of folk, rock, prog and tango, sharply focused by Rundek's vocals. The eclecticism is a plus: each track has distinction and character. Rundek, whose track record includes theatre direction and improv as well as Croatian rock'n'roll, is a sensitive writer, mature enough to let his band rip up the material and stitch it back together with blaring brass, soaring fiddle (Swiss electric violinist Isabel) and a cracking punk-funk backline. Rundek makes angular melodies sound as sweet as lullabies. And vice versa. In these bland times he's a necessary character to have around.